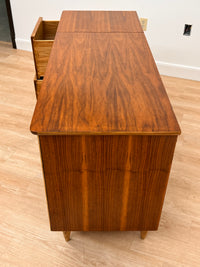 Mid Century Cedar Chest by Lane Furniture
Wonderful Cedar wood chest Designed and Manufactured by Lane furniture of Altavista Virginia in the early 1970s....
This is without doubt the Best example of a Lane Cedar chest I have ever found, two large deep drawers for sheets and Linen and the main chest for the bulky winter covers to be stored over the Summer (if we ever get one) Love the Curves on the base frame of this one gives it a real Mid Century Vibe....
Measurements: Width 52"  Depth 19"  Height 30.5" 
SKU M3513
SHIPPING IS NOT INCLUDED PLEASE CONTACT ME FOR A QUOTATION
Since all pieces are vintage, with some expected wear, we cannot accept returns on any item. We do our best to accurately represent each item, and are happy to provide you with as much information as possible before purchasing a piece. Please review all photos carefully unless you are able to visit our warehouse.