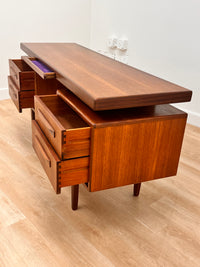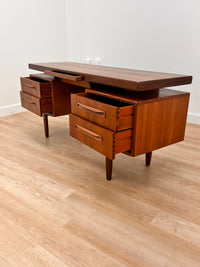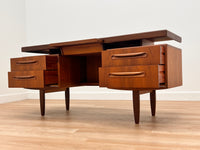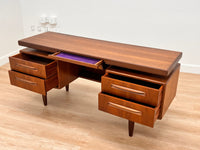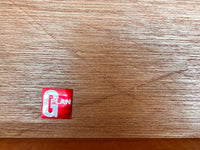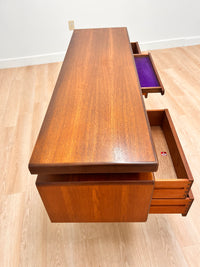 Mid Century Teak Desk by VB Wilkins for G Plan
This iconic British desk was produced by E.Gomme Ltd of High Wycombe London as part of their high end G plan 'Fresco' range.

Designed by V.B.Wilkins during the 1960s the desk has two banks of Dovetailed drawers either side with a central drawer above the Kneehole, it has the classic 'Wilkins' floating top design. Produced in teak and standing on its original legs the condition is excellent for its vintage.


MEASUREMENTS: 60" wide x 18.5" deep x 29" high
Kneehole  20" Wide  26" High 

SHIPPING IS NOT INCLUDED PLEASE CONTACT ME FOR A QUOTATION

SKU: M3213

Since all pieces are vintage, with some expected wear, we cannot accept returns on any item. We do our best to accurately represent each item, and are happy to provide you with as much information as possible before purchasing a piece. Please review all photos carefully unless you are able to visit our warehouse.

The cost of shipping varies on each piece, and is dependent on where you're located. If you'd like a quote on shipping, send us your zip code, along with a link to the piece you want shipped. Also feel free to email us with any questions about shipping (costs, insurance, etc). You may choose to arrange your own shipping as well.