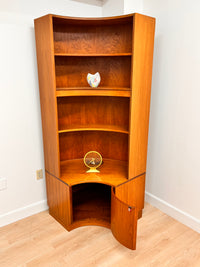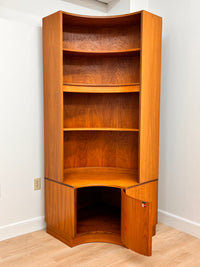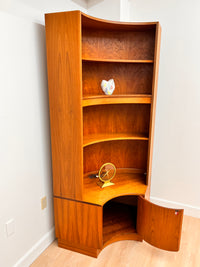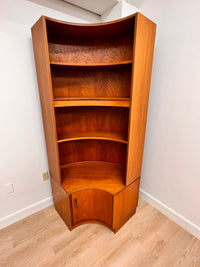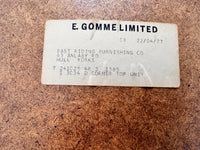 Mid Century Corner Cabinet by G Plan

Fabulous Large Corner Display Cabinet Designed and Manufactured by G Plan of High Wycombe London...

Three semi circle curved shelves (two are adjustable) sitting on a base Plinth with a single door opening to reveal storage space.
Wonderful piece of furniture that would fit snugly into any corner of your room and in excellent condition for its vintage...
(This item is also Back-lit but would need to be rewired as fittings are European, or left as is as does not show)

Measurements: Height x 78" Width 40" x Depth 40"

SHIPPING IS NOT INCLUDED PLEASE CONTACT ME FOR A QUOTE

SKU: M2081

Since all pieces are vintage, with some expected wear, we cannot accept returns on any item. We do our best to accurately represent each item, and are happy to provide you with as much information as possible before purchasing a piece. Please review all photos carefully unless you are able to visit our warehouse.

The cost of shipping varies on each piece, and is dependent on where you're located. If you'd like a quote on shipping, send us your zip code, along with a link to the piece you want shipped. Also feel free to email us with any questions about shipping (costs, insurance, etc). You may choose to arrange your own shipping as well.