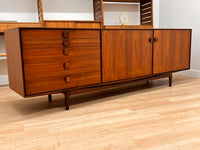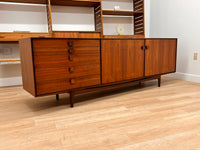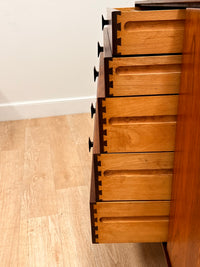 Mid Century Credenza by IB Kofod-Larsen for G Plan
If you are looking for one of the Largest Credenza's out there then you just found it, At 92.5 inches Wide they don't come much bigger than this....
Absolutely Stunning Piece Designed by one of Denmark's Icon's  Mr I.B. Kofod-Larson in the early 1960s
The build quality is Perfection because these were hand built by real Craftsmen back in the day, its just outstanding !!!!
Measurements: 92.5" Wide  30" High 19" Deep
SHIPPING IS NOT INCLUDED PLEASE CONTACT ME FOR A QUOTATION
The cost of shipping varies on each piece, and is dependent on where you're located. If you'd like a quote on shipping, send us your zip code, along with a link to the piece you want shipped. Also feel free to email us with any questions about shipping (costs, insurance, etc). You may choose to arrange your own shipping as well.