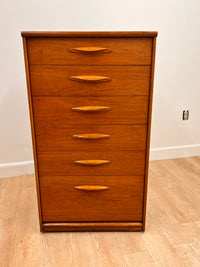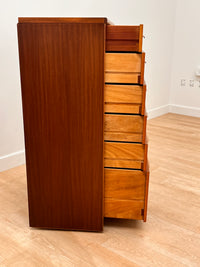 Mid Century Dresser/Drawer set by Austinsuite Furniture
Teak Six drawer Dresser Designed by Frank Guille and Manufactured by Austinsuite in the 1960s
Very Practical Tall boy Dresser/Drawer set perfect Bedroom storage Piece with Multiple drawer depths: Top 4" Centre 4 5" Bottom 11"
Measurements: Width 25"  Depth 16.5"  Height  45.5"
SKU M3269
SHIPPING IS NOT INCLUDED PLEASE CONTACT ME FOR A QUOTATION
Since all pieces are vintage, with some expected wear, we cannot accept returns on any item. We do our best to accurately represent each item, and are happy to provide you with as much information as possible before purchasing a piece. Please review all photos carefully unless you are able to visit our warehouse.