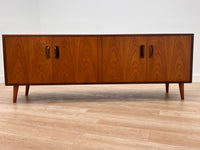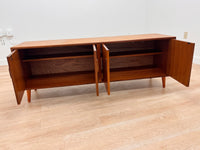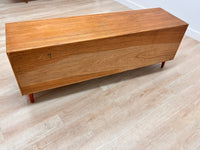 Mid Century Vinyl Record storage Cabinet by G Plan
Mid Century Vinyl Record storage Cabinet Designed and Manufactured by G Plan in the late 1960s...

Fabulous Low Profile Hi Fi Cabinet with Four doors revealing ample removeable shelved storage for all your Prized Vinyl Records internal height is 16 inches so easily stores 12" Vinyl....Deck Amps and Speakers are housed on the Top ...Stunning Piece made from Teak sitting on splayed stubby Legs and in excellent condition for its vintage...

Measurements: Width 64" Height 23.5" Depth 18" LP storage height 16"

SKU M3296

SHIPPING IS NOT INCLUDED PLEASE CONTACT ME FOR A QUOTE

The cost of shipping varies on each piece, and is dependent on where you're located. If you'd like a quote on shipping, send us your zip code, along with a link to the piece you want shipped. Also feel free to email us with any questions about shipping (costs, insurance, etc). You may choose to arrange your own shipping as well.