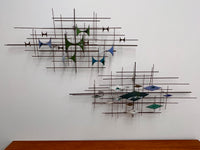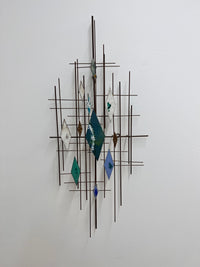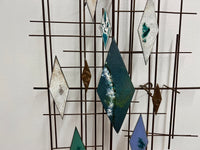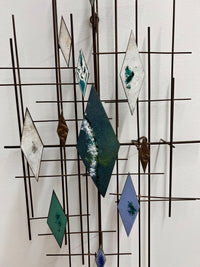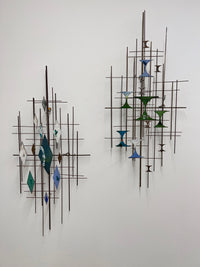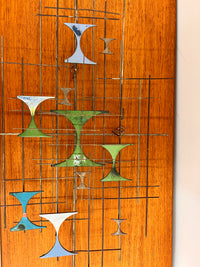 Mid Century "Bowties and Diamonds" Abstract Metal Wall Art
Pair of Original "Bowties and Diamonds" Mid Century Wall Sculptures, all rods are Brass, Large accents are Enamel on Brass, Small accents are Bronze   
These were the Height of Home Decor Cool between 1965 and 1975.... if you did not have a Piece of Abstract Wall Art in your home then you were deemed as being "Old Fashioned" or even worse "Square"
Made Famous by Artists/Designers Curtis Freiler and Jerry Fels (both formed the Company C. Jere in 1963 in California, at their peak employing over 300 people making sculptures and Artworks to set Designs, Their Motto: "Bringing Gallery quality artwork to the Masses"
Measurements: Can be hung Vertical or Horizontal  36" High 17" Wide  5" Deep
SKU M3607
SHIPPING IS FREE ON THIS ITEM
Since all pieces are vintage, with some expected wear, we cannot accept returns on any item. We do our best to accurately represent each item, and are happy to provide you with as much information as possible before purchasing a piece. Please review all photos carefully unless you are able to visit our warehouse.